restorative yoga 2: going deeper: an intensive training for teachers with Anna Ashby in London
July 24, 2019

-

July 26, 2019
Room: Camden Studio 5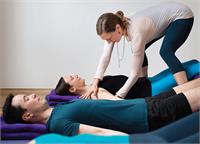 restorative yoga 2: going deeper
an intensive training for teachers
*****
Eligibility:
This training is for qualified yoga teachers who have taken a level 1 Restorative Teacher Training or equivalent and are actively teaching restorative yoga. If you are unsure of your eligibility, please contact flavia@triyoga.co.uk
This unique teacher training focuses on going deeper into the practice, art and teaching of restorative yoga and also includes simple meditation practices.
The training further explores 'stress' as the body's response to being knocked out of homeostatic balance, and the 'stress response' as the body's mechanism for returning back to equilibrium. Three broad areas of learning – recognition, responsibility + resilience – form the architecture of the training, while an empowered learning environment in the company of fellow teachers helps build confidence and creativity in teaching ongoing restorative yoga classes.
The timings are:
Wednesday 24th July: 9.00-5.30pm
Thursday 25th July: 9.00-5.30pm
Friday 26th July: 9.00-5.30pm
Each day includes:
– restorative yoga practice
– dialogue + journaling
– meditation practice and how to teach simple meditation  practices
– further study of restorative asana including use of
chairs, set-up + assists
– seeing and understanding bodies + stress
– review of essential and functional alignment
– anatomy/physiology of postures + the physiology/psychology of stress
– practical tips for creating an environment conducive to relaxation + healing
Day 1
Recognition involves understanding better how stress impacts the nervous system + overall health and what to do about it. Not only does this day cover how to recognise the signs of stress, it also covers how stress becomes acclimatised and no longer seen. By understanding the complexity and pervasiveness of the stress response in relation to modern living, we as teachers can help students learn to recognise + manage stress through understanding and various restorative + meditation practices.
Day 2
Responsibility looks at understanding/shifting unique stress holding patterns through the lens of non-judgemental self-evaluation combined with empowered action. Using self enquiry as a means to reveal: unconscious or negative thought constructs; tensional holding patterns; behavioural tendencies contributing to ill health, this day addresses the language and culture around imbalance and offers methods for taking responsibility and shifting these patterns. Once seen, known and felt, a dialogical 'felt' process helps to shift self-limiting patterns without assigning blame.
Day 3
Resilience addresses the ability and skill of moving back into balance. As teachers we create safe spaces that 'give permission' for moving back into wholeness. This day draws upon personal ethical precepts such as gratitude and forgiveness as means to cultivate a compassionate self stance. By addressing challenges such as feeling vulnerable and not in control, to be able to open up and feel safe creates a powerful current for moving back into centre.
Participants are encouraged to observe/assist restorative classes with Anna Ashby and other triyoga restorative teachers. This can be done prior to or after the training.
Pre-course reading will be provided.